Gujo Hachiman also known as the Gujo Castle Town holds one of the largest and most famous festival in Japan called the "Gujo Odori (Dancing). The small town has a population about 15,000 individuals.
The festival lasts for thirty-three nights, starting from the middle of July to early September. The most exciting part of the festival is during the four days of Obon.(August 13 to 16), wherein, the dancing continues all night and full of excitement.About 250,000 visitors come to this small town during these 4 days.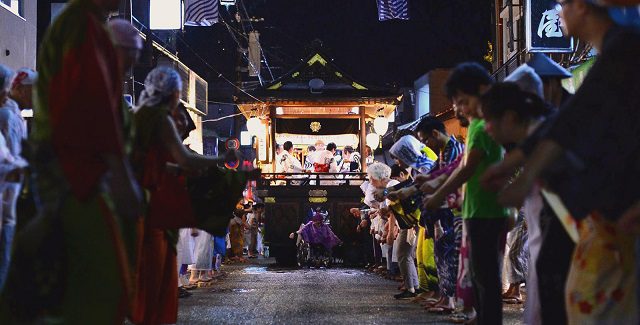 Local residents and visitors unite and dance as one.
The Gujo Odori (Dancing) originated 400 years ago. At that time, There used to be 4 social classes which are composed of by the Samurais,Farming peasants, artisans and merchants.
One day, the land lord thought of loosening up and enjoy 4 days of dancing no matter which social class the people belong to.
Since then, the "Gujo Odori" became not only for spectating but also for joining.
The event also became not only for the local people but also for visitors and even foreigners.
Japanese summer featured in Gujo; sound of active festive music, clapping of hands by the dancers and cracking beautiful sounds from Getas.
A man was inspired by all of these.
Let's take a look at his story.
Many consumers, but No producer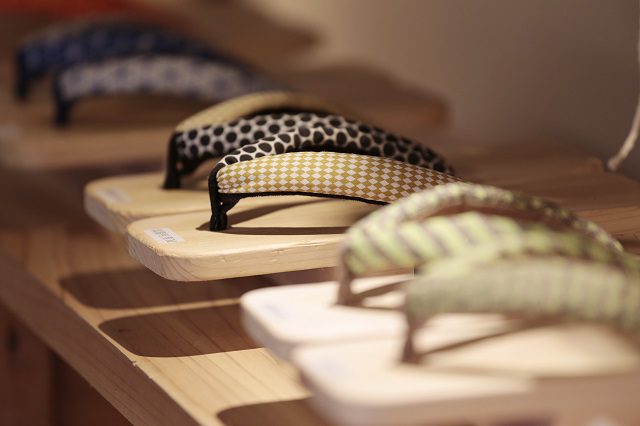 "Gujo Mokuri" located in the Gujo Hachiman old town also known as the small Kyoto has become the Geta specialty shop since 2016 from designing to producing up to marketing.
Yuto Morohashi (CEO) is the innovator of the original Gujo Geta production after graduating from the Gifu Academy of Forest Science and Culture.
He later moved to Gujo Hachiman. (Originally from Aichi Pre.)
One summer day, he visited and joined Gujo Odori (dancing) for the first time with his friend who was a native of Gujo Hachiman.
Mr. Morohashi was inspired by the Gujo Odori(Dancing) and instantly decided to get a pair of Geta for himself.
He was in his second year in the academy and was very curious to know more about the Gujo Odori(dancing) culture and the wooden footwear being sold at the stores. But he discovered something unexpected.
・There used to be many Geta craftsmen in Gujo town, but since shoes became widely used, nobody makes Getas anymore. Because of this,Geta craftsmen starts to lose their jobs.
・Gujo town is surrounded by a good quantity of Japanese cypress (Hinoki tree) but dense forests are dying.
"What he studies.", "What is available in Gujo."and "What people need."
Every key word started to fit like a jigsaw puzzle.
So he was able create the Geta business cycle using the of Geta Hinoki trees of Gujo.
Exclusively made in Gujo from wooden materials, detailed with indigo dyeing and screen printing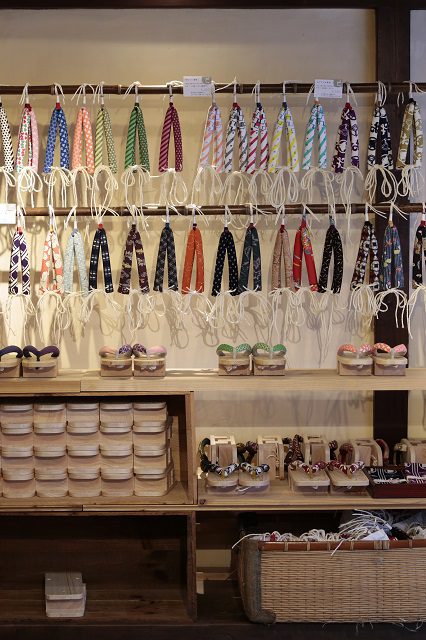 Choosing from the various fabric thong designs are so much fun!
◎Hinoki tree(Japanese cypress) instead of using traditional tree kind
Mr. Morohashi :
Getas are usually made of Kiri or Sugi tree because of the tree's light wooden materials. Gujo dancers hit the ground and make beautiful cracking sounds all night. Therefore, Geta should be strong enough as it is also considered a musical instrument. Because of this, I use Hinoki tree because of its dense and strong wood properties.There are 4 more Geta shops that use Hinoki wood in making Geta footwear in Gujo town.
Mr. Morohashi found the best quality of wood and materials to perfectly design the "Gujo Geta". There are 2 more secrets ideas of the Perfect Gujo Geta.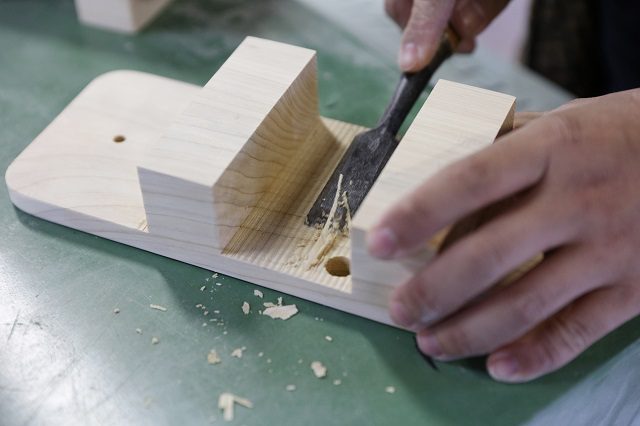 Trimming surface after sculpting the geta from a block of wood.
A traditional Geta is made out of 3 pieces of wood ; an elevated wooden base and 2 protruding boards called Ha or the teeth. On the other hand, Gujo Geta is carved out of only one block of wood, this is another reason why the Gujo Geta is a more durable footwear and also doubles as musical instrument.
The Gujo Geta has a 50mm height that gives the users an elegant dancing figure.( a bit higher than others)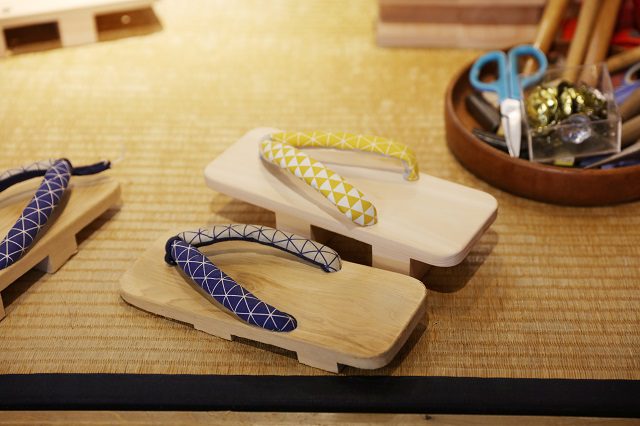 Above are brand- new getas.Geta bellow belongs to a male hight school student who loves Gujo Odori very much.He needed 3 pairs of Getas in just one season!
◎Colorful and fashionable fabric thong
Mr. Morohashi :
Gujo is also famous for its fabric industry. I collaborate with fabric craftsmen to make traditional and modernly style designed fabric thong
fashioned with indigo dye and screen printing details. The attraction of Gujo Odori (dancing) hasn't changed since 400 years ago, however, we cannot dictate what people like to wear. Lately, visitors choose to wear casual clothes to the Gujo Odori. Though, the traditionalJapanese
patterned Getas are still very popular, the polka dot patterned Getas are also becoming favored as it fits well with casual clothes. We would like everyone to enjoy dancing, no matter what clothes they choose to wear.
Gujo Geta is not just functional but considered fashionable nowadays.
Approximately 4,000 pairs of Getas are produced yearly. Around 3,000 of these are sold from the middle of July to early September and surprisingly, about 1,200 Getas sell within just 4 days of Obon."Gujo Mokuri" with Mr. Murohashi lives in harmony with "Gujo Odori(Dancing)" ever after.
Considering "Forest Science"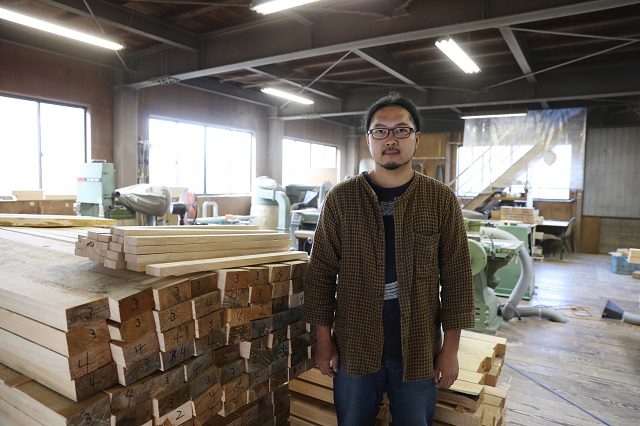 Since demand is low, Geta are made during the winter season and sold during the Gujo Odori season.
Mr. Morohashi learned woodworking techniques and Forest Science at the Gifu Academy of Forest Science and Culture. Conifers like Hinoki trees and Japanese cedars have been planted since 1950's. A lot of wood has already grown enough and should be cut off. If these tree are not cut off, forests will become dense and will eventually die because natural circulation is needed to preserve the forests in Gujo.
Mr. Morohashi :
Using those wood makes everything fall into place. I need wood tomake Getas and people need Getas for Gujo Odori(dancing).
Some people need 3 pairs of Geta for one occasion while Hinoki trees in the forests needed to be cut off. Forestry will have a major role in this area. This is the cycle that I want people to know.
This is the jigsaw puzzle Mr.Morohashi has been working on.
GUJO WARIBASHI CO. , LTD. where Mr. Morohashi used to work at has a similar objective. The company produces Hinoki chopsticks, children's toys among others.
Mr. Morohashi was in charge of the Geta production then later became independent in 2016.
Mr. Morohashi :
Some of my customers buy Geta first then starts to be interested in joining Gujo Odori. I am very happy to contribute to the Gujo Odori through my Geta business. It's very important for me to keep going what I have been doing.
If you are interested with the Gujo Geta, you can visit his website.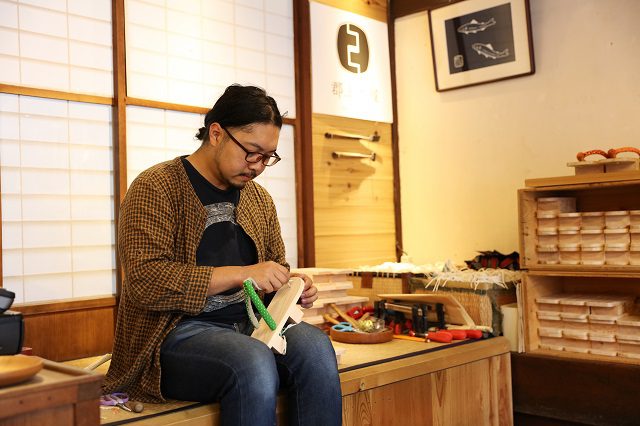 Mr. Morohashi customizes the geta's fabric strings to perfectly fit each customer.
If you can come by to his shop, take a look at the fabric thong designs and choose the best one for you. He would love to customize them for you to have the perfect fit, if your feet feel uncomfortable, Mr. Morohashi can adjust the fabric thong for you during the Gujo Orodi period.
We hope to see you in our Gujo Geta next summer!